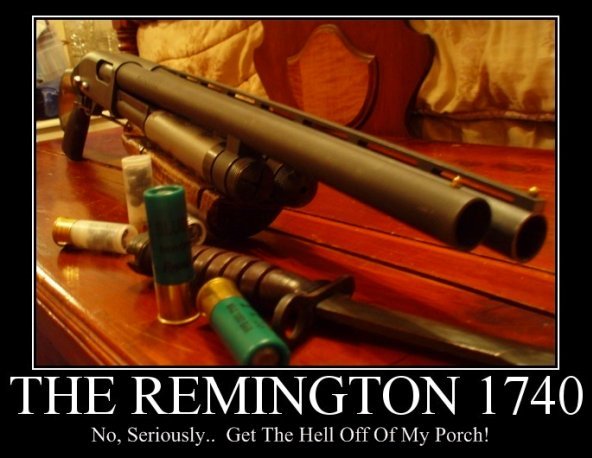 Derived from 4 Remington 870, two sets of a left and a right ejecting shotgun bolted together side by side, and the other one bolted on top of another upside down, with all triggers and stocks unified as well as given with a custom unified receiver. When an average shotgun is not enough, nor the R1740, the engineers of the dead zone offers the R3480 4-barreled pump shotgun, ensuring every blast is a blast.
LV 35 - 45 Improvised Shotgun - R3480 "Quad Cannon" or "Dead's Reckoning" or "Shattercannon"
http://tlaststand.wi...gory:DZ_Weapons
Ammo Cost: 100
APS: 0.8
E-DPS: 128
Damage: 240 - 320
Accuracy: 80%
Range: 10
Capacity: 8
Reload Speed: 4.00
Knockback: 100%
Or
Ammo Cost: 100
APS: 3.2 (Shells shot every second.)
E-DPS: 128
Burst Count: 4 (Firing all barrels in sequence instead)
Burst Delay: 1s (The actual pump, and a little bit of rest from the powerful recoil)
Damage: 60 - 80
Range: 10
Accuracy: 80%
Capacity: 32
Reload Peed: 4.00s
Knock Back: 25%
Personal Note:

I actually think that Marion's Trident is losing to other shotguns because of firing speed but i still love it. But being in a higher level, it has been replaced with faster firing shotguns like Chainsaw Shotgun, DRS-12, and Saiga-12 and with a higher DPS naturally it is logical to go for it. I wanted a pump shotgun that is very powerful, because i don't need so much speed in shooting with the shotgun. I honestly didn't like the new auto-shotguns Con introduced. But for a much sensible person; not wanting to fire 4 rounds in a single squeeze, i offered another stats that allows it to have a 4-rd burst instead.
This idea is just very simple, bolt a left-ejecting and right-ejecting R870 shotgun together, then make another one. And the bolt the other one upside down on the other one; centralizing the shots much more. And the shells will just eject on the side after firing. The engineers can just open the reciever and replace the trigger mechanism and unify them in a single trigger, single handle single stock. But another configuration; simmilar to clockwork that allows them to shoot the separate barrels one by one, allowing a 4-rd shotgun burst.
While it is a shoulder-breaking shotgun, they could have a modified stock; that when the trigger is squeezed, the stock unlocks and allows it to be collapsed with a spring inside.
Anyways, bottom line is, i just gave this idea because i think that Marion's Trident is becoming useless.
Edited by The Architect, 02 January 2014 - 06:25 AM.